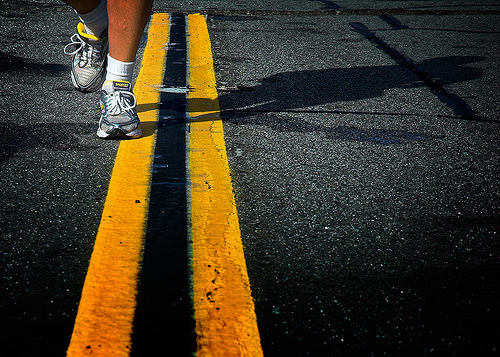 Content is and always will be your best bet at ranking highly on Google's search results. Yes, there are technical ways to up your chances, but recent changes to Google's algorithm are making Search Engine Optimisation (SEO) extremely difficult to shortcut.
Increasingly, Google's aim is to make gaining trust on the the interwebs just as difficult as gaining trust in person.
When you first meet someone in a business context, your level of trust and respect for them is very basic - they are an acquaintance who you must learn more about before you would consider recommending their services to a friend. The longer you've known them, the more you will get a feel for what they're about. You will have listened in on the conversations that they're having with others, or seen them around at your local industry watering holes. If what they say makes sense to you, you're much more likely to recommend them to a friend of yours who might need their services.
It's the same principle with online lead generation: your business must commit to investing much time, energy, and effort to gain the trust and respect of your buyers.
But here's the good news: it works.
We've been running an active test with our own business. The goal was to rank organically through our content over a one year period, and these are the results: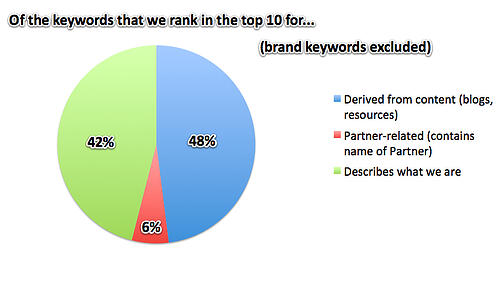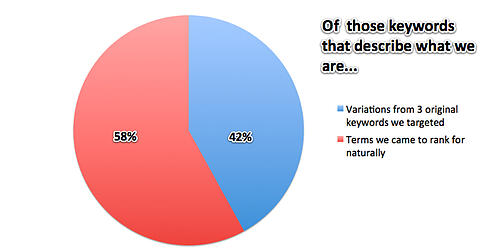 In that first pie chart, notice how most of the keywords for which we are in the top 10 search results are derived from talking about what we do. Our website content makes us rank for these key terms, because of our blog posts and free resources.
In the second pie chart, notice that from those keywords that describe what we are (the keywords that define our business), 42% are variations of 3 keywords that we decided to target at the beginning of the year, while the majority (58%) derives from keywords that we've come to rank for naturally, without even trying.
The problem is that most businesses are impatient - they can't wait a year to rank. They want to rank at number 1 and they want it now.
But the whole point is that it's not that easy. Google doesn't want to make it easy for you. If they did, you could pay your way to number 1, even if your website isn't really what their users are looking for when they search for that keyword. Google users would drop off like flies because of the irrelevant search results, and Google doesn't want that.
Besides, organic SEO efforts pay off in the only way that really matters: the bottom line.
Lead generation is the ultimate goal of SEO
Inbound marketing which is powered by remarkable content gets you more traffic, some of which convert into quality leads. It's the only reason that you'd bother with ranking in the first place!
This is a snapshot of our Hubspot traffic and leads for the past year, with markers for when we started to increase our social media activity, as well publish content more frequently:
Excuse the crpytic nature of these graphs - our aim was to highlight how traffic and subsequently lead generation through inbound marketing is more of a slow and steady climb as opposed to an instant spike in website activity.
If you are armed with the right content, your leads should correlate to your traffic, ie. you will have a consistently good conversion rate. Otherwise, you might want to reassess your content or distribution channels - but this is another topic altogether.
So. How do you replicate our success? Here are 3 tasks that you need to stay on top of:
#1 Research your keywords
You should have some analytics tracking in place to gauge what keywords are bringing traffic to your site. Even though Google has hidden your most important keywords (it will probably appear as 'SSL' in your source data), you should still be looking at what's generating visits, and what you're ranking for.
Google's keywords tool will also give you a good idea of how many people in your country are searching for that keyword. Go for quality over quantity. If lots of people are searching for it, but none of them are where your customers are, what's the point? Try to find the sweet spot.
#2 Craft a game plan
Think about:
How you'll apply your keywords to your content
Content published on your website (on-page optimisation, technical aspects of SEO)
Content you will publish elsewhere (guest blogging, inbound links)
How you're going to distribute that content
Location (where are your prospects likely to see it)
Frequency (how often you will be distributing to those locations)
We cannot stress enough how important distribution strategy is in this puzzle. If your useful content can't be found by your buyers, then for all intents and purposes, it is useless.
How you're going to refine your content strategy
Analytics data of each content piece (particularly visit/view to lead conversion rates)
Closed-loop analytics (measuring ROI of entire sales and marketing funnel through analysis of conversion rates at each stage)
#3 Maintain momentum
We have found this to be the hardest part of content marketing; committing to the strategy that you've created. In particular, sticking to content publishing schedules (like blogging and social media) is hard to keep up when you're already short for time, there are a billion other priorities, and you're not seeing an instant return on investment.
However, maintaining momentum is of the utmost importance if you want to reap the business benefits of integrating SEO into your B2B marketing strategy.
Most B2B marketers are constrained in the way of resources, and they don't see an immediate issue, so they opt to do nothing. It's easy to feel overwhelmed, thinking that there's no way we can do it all, and doing nothing is safer. But remaining static is not safe - in fact, it's a road block to improvement.
According to B2B Technology Marketing Community's recent survey, you're not alone. Industry peers feel that their most challenging tasks are finding the time and bandwidth to create content (56%), producing enough content to serve the needs of marketing programs (45%), and a lack of resources and talent (33%).
If hiring someone to handle it internally is out of the question, why not outsource elements that you can't handle yourself to people who specialise in it? One in three companies rely on external agencies or freelancers to create content - typically videos (33%), whitepapers or eBooks (32%), and case studies (26%).
Make it a flexible arrangement if you can't commit to anything. Just steer clear of 'linkbuilding' or 'SEO' agencies, no matter how 'white hat' they claim to be. Your money is better directed to PR activities or upping your content marketing strategy.
To learn more about the shift from Search to Social, you can download the complimentary eBook we have created on the subject:
How effective has your SEO strategy been? Share your thoughts with us in the comments section below.
photo credit:

darkmatter

via

photo pin

cc