The other day I was auditing a client's website for optimisation opportunities when an interesting idea struck me; each web page has its matching funnel stage.
Here's what I mean.
There are 2 kinds of pages; those that are educational (hot industry news, things that are of interest to your buyers), and those that are promotional (information on your company's background, and its products or services).
Naturally, the educational bits will cater to your top of funnel visitors, while the promotional bits are more for your middle to bottom of funnel visitors.
So although every web page should have a conversion path for each buyer no matter what stage they're at in their journey, each page tends to be aligned to one funnel stage more than another.
Failing to recognise this could mean muddled messaging, a lack of clarity and a lot of lost opportunities to convert visitors into leads. The following is a map of how you can minimise leakage by matching your web pages to different buyer stages: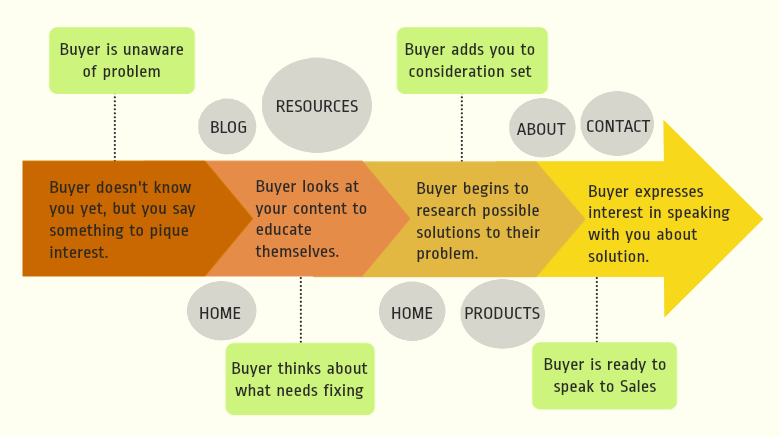 1. Home Page
What: Your home page is in charge of answering basic questions. At a glance, it's obvious who you are and what you do (or at least it should be). It also functions as your hub. People who visit your site frequently will usually start here because it's an easy way to get to the other areas on your site. It's probably the most linked-to page.
Funnel stage: Middle / Bottom.
Why: Your prospect is past educating themselves about their problem, and they actually recognise that a possible solution to their problem is a business such as yours. This is most applicable in situations where a prospect found your site via organic search, using a set of keywords that encapsulate your business offering (eg. 'Marketing Automation Software').
Tip: Best practice dictates that you have a matter of seconds to make that vital first impression. Make it clear what problems you solve for buyers and make it super easy to click to get to other areas (particularly educational) of your site. Use CTAs and have your educational hub in your top menu. That way, you won't lose your top of funnel traffic.
2. Contact Us
What: The place people go to figure out how to reach you, and where you're based.
Funnel stage: Bottom.
Why: This page can definitely cater to irrelevant people, like job candidates and the like. But if a prospect looks up your contact details, then at the very least they are thinking about contacting you, ready to be spoken to about your offering. Why else would they bother?
Tip: You probably have a phone number and email address up there, but put a form on your contact page to make it as easy as possible for prospects to reach you. Remember to think about what questions you should ask that will help you get a feel for their business (budget, authority, need, timeline). Also, link to risk-reducing content like testimonials or case studies to make them feel more comfortable with you.
3. Free Resources (Blog Included)
What: Here are your free educational resources, including your blog. It's that magical place on your site that remains untainted by salesy speak, utterly neutral and focused on educating without pushing products.
Funnel stage: Top.
Why: When people visit this area of your site, they are definitely not ready to be spoken to about your offering. In fact, they may not even be aware that they need it yet. They're just gathering information about their problems, and you happen to be talking about them. It's a domino effect. The more you talk about their problems, the more they will realise that you really get it, upping your chances of being considered when they are ready to have that discussion with you.
Tip: People often land on a blog post or your resource centre through social media. As they consume your content, they'll want to know if you're a credible source, so have something on this page that indicates who you are and why they should listen to you.
4. Products and Services
What: The "online brochure" type pages that talk about what you're selling.
Funnel stage: Middle / Bottom.
Why: If a prospect checks out these areas of your site, it's a good sign. They're looking at their options, and you might be one of them. Still, this doesn't mean they're 100% ready to be spoken to. They might just be doing research.
Tip: Have marketing automation in place to see exactly what products and services they were looking at. This arms your sales people with information that allows them to have a more intelligent conversation. Remember that you're probably not the only one that they checked out, you're just in their consideration set. And this kind of knowledge gives you an edge over your competitors.
5. About Us
What: Here's where you give a little background about your company. How it was founded, who works there, and what your philosophy is.
Funnel stage: Middle / Bottom.
Why: Whether they're stalking your staff or just trying to get their head around your business, people who end up here trying to find out - in summary format - who you are and what you do. They are sussing you out.
Tip: Make sure that this area answers your prospects' bottom of funnel questions, like who are these guys? How much experience do they have? How satisfied are their past clients? How do I know that they'll understand my business? Split it up into separate sections and pages if necessary.
Put yourselves in the shoes of your buyers!
Try to get into their heads so can make your site work for them, because that's who it should serve!
For each of the above pages on your site, ask yourself:
Why would my prospects be looking at that page? What do they hope to get out of it?
How well does my page satisfy their needs?
What can I add to that page to push them in their buying journey towards sales?
Do I have enough gated offers on my website?
Do I have enough CTAs on that page?
Are there any unnecessary distractions that might make them drop off?
Consider the above as a general rule for the functionality of your website. It should put you on the right path to online lead conversion, because your website will be relevant to the stage your buyers are at in their journey.
To learn more, please download our free eBook on the buyer's journey:
Don't forget to let me know what you think about this theory in the comments section below!