What do Customer Experience Cassie, Recruitment Rhonda, and Procurement Pete have in common? They're almost-real (or semi-fictional) representations of a business's target audience. They're the archetypes of the decision-makers you're trying to influence. They're the people you're trying to sell to.
Buyer personas (also referred to as marketing personas) are built on a framework of research (primary and secondary), and data and cover your buyers':
Demographics
Job role
Goals and challenges
Values and fears
Why Are Buyer Personas Important?
Marketing personas are the essential blocks on which successful campaigns are built. How can marketers generate effective content if they don't understand the world of their reader, listener or viewer? How do you create messaging for your website, for your sales calls, downloadable content, bots…? The keyword here is effective. So often, marketing messaging structured with the seller in mind – paying lip service to the buyer's problems and blatantly plugging the products of the content creator.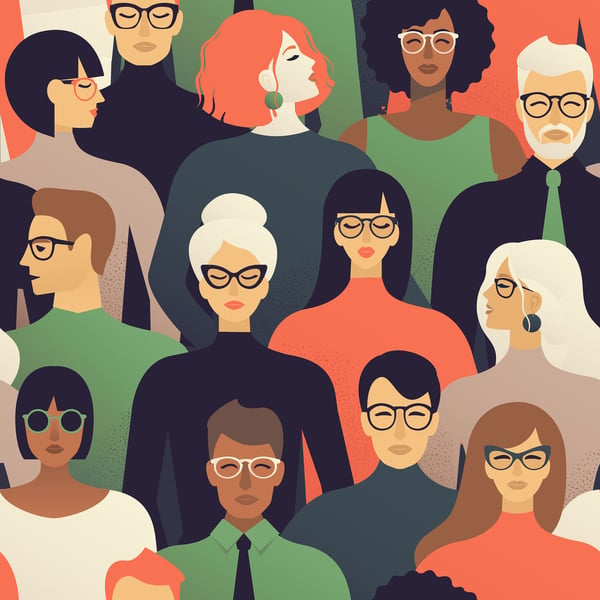 The Consequences Of Lazy Persona Development
The result of a poor understanding of what motivates your buyer is ineffective content. Ineffective content means lower conversion rates and inferior quality leads. Without these strong foundations, your cost per lead goes up, and marketing ROI comes down. True understanding requires real effort and real research. No shortcuts.
Why Are Buyer Personas Vital To Your Digital Marketing Strategy?
It's not just messaging buyer personas shape. It's targeting. With upwards of 83% of the buyer's journey performed online (Gartner), it's never been more necessary to understand the characteristics and nuances of your target audience. How can you know which platforms your audience is frequenting, or the devices they're using without proper research?
The 4 Steps To Building Powerful B2B Buyer Personas
1. Secondary research
Listen Carefully. Spending time with your internal customer experts such as sales, customer service or channel partners is an excellent starting point. They will help you build a general picture of your buyer. Create some initial assumptions about job titles, areas of interest and challenges. Try and understand if there is more than one person influential in the purchasing process.
In B2B markets, the sale is often long and sophisticated, and it's highly likely that several people will influence the decision. At g2m, we always run a series of buyer workshops with our client's internal customer experts. We focus on understanding and agreeing on core problems their buyers are facing and those problems they are best at solving. It's a powerful exercise in creating clarity.
However, just as importantly, marketers must generate some genuine, unbiased external input. Many B2B marketers are unsure of how to do this. Social media provides excellent opportunities to listen to your target buyers discuss their issues and concerns on LinkedIn groups, for example.
Set up Google Alerts for key phrases, attend events and conferences, listen to Q&A sessions on webinars, read articles in trade magazines. With a little careful thought and applied effort, it's entirely possible to get a good read on your buyer's world.
Tip: Think carefully about who and how you are going to collect this information. Without careful planning, you will have lots of data but no way to process the data and see the wood for the trees.

2. Primary research
Diving deeper. Build a longer discussion framework (more like an agenda than a questionnaire) and conduct a few but longer person-to-person interviews.
Spend as much time as you are allowed to dig into the world of the buyer. Often 5-10 deep dive person-to-person interviews with your buyer personas will yield incredible levels of insight.
Picking the right people to be interviewed is as vital as the questions you ask. Be sure to speak to customers AND non-customers, and make sure they represent a cross-section of your target audience. You'll be grateful for the perspective. For sophisticated product offerings, speak with influencers and decision-makers throughout the buyer's journey to ensure you are painting a clear picture.
Tip: Use open-ended questions. Open-ended questions encourage respondents to include more information, including feelings, attitudes and understanding of the subject. This allows researchers to gauge the respondents' true opinions on an issue better and prevents you from putting words in their mouth.
What to look out for in your primary and secondary research
Identify their pain points
As part of the research process, you will need to identify your persona's pain points. What issues are they facing day-to-day? What is keeping them up at night? What is slowing them down?
You can do this by asking your customer service team for what type of questions they get most frequently and draw conclusions based on patterns you identify. Another way to determine how your customers and prospects are feeling is to engage in social listening, social monitoring, or social sentiment analysis.
During your primary research process, be sure to flesh out the challenges your prospects are facing by asking pointed questions.
Understanding your persona's pain points will set you up for success. You'll have the insights to develop your campaign messaging and products as a solution to their problems.

Identify their goals
The other critical insight you need to uncover during the primary and secondary research phases is the goals of your personas. Unlike pain points, which are the problems your prospects are trying to overcome, goals are the positive things they are aiming to achieve. These goals could be personal or professional, depending on the products or services you are trying to sell them.
The goals your personas might be trying to achieve could be directly related to your product or service, but don't necessarily have to be. For example, your target persona might be IT Managers who have the personal goal of getting a seat at the executive table one day. If you're selling a piece of technology which can improve efficiencies in their department, the result for them might be a promotion.
Even if your personas' goals don't relate specifically to your products or services, they could still be valuable. Goals can form the framework of a marketing campaign or inform the messaging in your marketing.
3. Build a profile
Using the results of the interviews, it's a reasonably straightforward process to develop a persona profile, or more likely a series of persona profiles. These profiles list out who the person is, what triggers action, where they look for solutions, what matters to them, what "tone" or "voice" resonates with them and lastly and most importantly why they must take action.
Be sure to include:
Persona Group (i.e. IT Manager)
Fictional name (Database Dave)
Job titles and major responsibilities
Demographics such as age, education, ethnicity, and family status
Their goals and tasks
Their physical, social, and technological environment
A quote that sums up what matters most to the persona as it relates to your business
Casual pictures representing that user group


Tip: Your persona must have a face. It helps you to remind your team that everything you create, every decision you make has a direct effect on your customer. How would Procurement Pete react to this piece of content?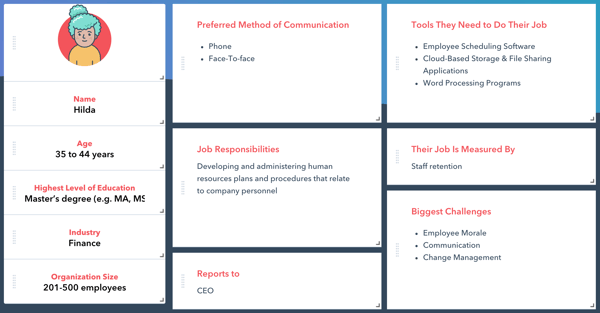 HubSpot's Make My Persona tool is great for building a profile.
4. Create a content map
You must link all of your content to your buyer personas. Using the results of the interviews and the buyer persona profiles you have generated, build a series of questions that buyers ask themselves at each stage of the buyer's journey. There are likely to be several questions at each step of the journey.
With this more in-depth understanding of your separate buyer personas, you can now audit your current content and map it to the questions of your buyer personas. Does it answer those questions? Identify any gaps and build a plan to generate content that answers your buyer persona's questions.
Now you have content that directly addresses the key concerns, problems and challenges at each stage of the buying journey. You also understand the right tone and type of material to use. Likewise, you know where your buyer personas go to look for content to consume, so this information will help inform your content distribution strategy too.
Don't just set and forget.
Buyers continuously change in response to the changing business environment in which they operate. Continue your research to ensure you remain responsive to your buyer persona's purchasing journey. Every day, competitors are attempting to replace you in the marketplace. Maintain your competitive edge by understanding your customers or clients better.
As new issues and interests arise within your target audience, you want to address and incorporate them into your persona definitions - this will ensure your content stays fresh and relevant.
Once you have your buyer personas locked down, you must share them with the broader business. Personas have the power not just to influence marketing and sales, but also business, product development and customer service (to name a few). The better your organisation knows your buyers, the more competitive it will be.
Need help developing your buyer personas? Speak to someone from the g2m team today.