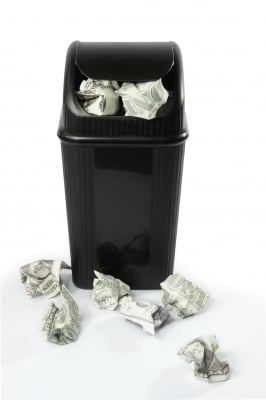 There is ongoing debate surrounding the effectiveness of PPC for B2B marketers, as well as the effectiveness of PPC in general.
Is PPC a waste of time? Or a valuable tactic in the B2B marketing toolbox?
Here we discuss some major considerations B2B marketers should address before chucking their precious, hard-earned budget at a PPC campaign.
1. It's Difficult
Google Adwords accounts are deceptively easy to set up. However successfully managing a PPC campaign is difficult, and if you don't invest in skilled staff/agencies, your ROI will be poor, or even negative. Additionally, the competition for popular search terms is high. This means you need to be even better at PPC management to generate decent results.
Recommendation: Use a skilled PPC expert to manage your B2B campaign.
2. It's Limited
Of all clicks made on results pages, a whopping 75% go to organic results and not paid ads (SEOMoz and Hubspot 2012). This clearly shows that having a good organic search ranking will generate more traffic than a paid ad. However, generating good organic search rankings takes time and effort: a huge reason businesses turn to PPC.
PPC means you are paying for your brand to be placed in front of an audience. But equally, good content will be shared with relevant communities, containing personal endorsements and recommendations along the way – for free. Quality content encourages trust from visitors as it allows you to demonstrate understanding and expertise.
Additionally, Google's new algorithm updates in 2012 emphasise the importance of social sharing and engagement and builds your organic search ranking over time, whereas PPC Ads are a one-off investment that lasts as long as the advert is displayed. Think buying vs renting a home.
Recommendation: Invest in building your organic search rankings first. If resources allow consider PPC as a secondary strategy.
3. It's NOT a Standalone Tool
Just because you have allocated budget to PPC, doesn't mean it will provide good results. B2B marketers need to stop thinking 'our site traffic is low - we'll just do some PPC'. With the complex buying cycle B2B marketers face, this is especially important.
Not incorporating paid search into an overall marketing plan will limit the amount of success you can generate using this tool. Not linking paid search traffic to a landing page with a CTA lets all the leads generated (and the $$ spent doing it) slip through your fingers.
Recommendation: Make sure your PPC traffic directs to a relevant landing page instead of a generic page like your home page.
4. It's hard for B2B Marketers to Target
The more targeted the PPC ad campaign, the better the results. Consumer paid ads are highly targeted, as the majority of the time the searcher knows exactly what they want. For example, if a searcher types in 'Canon 1100 DSLR', and an ad stating 'Canon 1100 DSLR's On Sale Now!' appears, it is easy to see why this would be appealing.
In the case of B2B, where searchers may not know what it is they are looking for, and broader keywords will be used, it is much more difficult for B2B buyers to create highly targeted ads.
Additionally, a lot of B2B prospects search goals are purely informational, hovering at the top of the funnel, with no intention to buy. This would suggest that a user would be more inclined to click on informative blog posts than direct advertisements, meaning B2B marketers could be missing out on a whole chunk of potential prospects.
Recommendation: Make sure you are combining other methods to capture top of funnel traffic. One great way of doing this (whilst increasing your organic search rankings) is by producing blog content that helps solve your buyers' problems. This allows you to use broader keywords to get found in organic search results, and capture your potential audience early on in their buying cycle.
5. It's harder to measure for B2B
The length of the buying cycle makes B2B PPC harder to measure. With B2C PPC, the majority of searchers know exactly what they are looking for and intend to buy within the next few hours. This makes the link between ad clicks and sales pretty easy to track.
With B2B PPC, it is highly unlikely that a prospect will search, for example 'email archiving solutions', then click on an ad and buy a solution for their business that day, or even that month! In fact, this process can take around 12 months for some B2B companies, making the results more difficult to track.
Recommendation: Using PPC as a short term solution is challenging for the long and complicated B2B buying process. Since each decision-maker will need input from their peers before they can proceed, they are most likely not interested (yet!) in anything near the bottom of the funnel. Use an appealing, top of funnel CTA.
Conclusion
PPC Campaigns may be worthwhile if they are managed by an expert and included in an overall marketing strategy. Using PPC as a 'quick fix', as many do, is fraught with problems for B2B marketers.
Ranking through organic search should be your number one goal, though it can take a while to see results. If you are already using PPC to generate traffic make sure you are allocating some of your budget to more sustainable investments like organic search. That way, you can eventualy wean yourself off PPC and rely on your robust organic search strategy.
For more information on Building your organic search results please download our FREE eBook below:
Image courtesy of FreeDigitalPhotos.net