Social media for B2B, a waste of time or an untapped source of sales? Is it really worth the investment? A recent study by the Content Marketing Institute (CMI) and Marketing Profs uncovered that social media is used by 87% of B2B content marketers, making it the most popular marketing tactic. However, social media also has its skeptics.
It is undeniable that social media has been successful for several businesses. A compilation of social media statistics last year highlights research by Social Media Examiner, which shows that:
58% of marketers who have been using social media for the past 3 years report it has helped them improve sales.

65% of B2B marketers have acquired a customer through LinkedIn (

research by Marketing Charts)
However, many still question the effectiveness of social media and its ability to deliver a Return on Investment (ROI) for B2B businesses. Despite the popularity of social media in the industry, the CMI study showed only 49% of marketers rate social media as effective or very effective, making social media the least effective marketing tactic. The chart below shows the confidence gap in social media.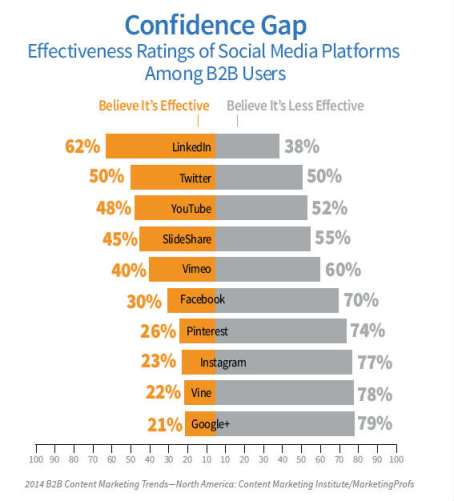 Now, on to the burning question: Does social media produce a ROI for B2B businesses?
Yes and no. You see, cocial media can deliver ROI, but only if it is done in the right circumstances and with the right support. There are 5 main factors to consider:
1. Your target audience's buying behaviour
Any marketing campaign will not be successful without a thorough understanding of the buyer. Before you leverage social media, you must develop your buyer personas. Within each persona, you must identify the problems they face, the needs they have, their interests and their buying behaviour.
With this understanding of your buyers, you can determine whether social media is an appropriate medium to communicate with your target audience. Once it is deemed suitable for your market, social media will have a better chance of delivering ROI to your organisation. However, it is important not to assume that your target audience is not using social media. Base this decision on research. You will be surprised what LinkedIn groups and Google+ communities there are out there!
2. An end-to-end marketing campaign
When leveraged without a proper strategy to support it, social media cannot be effective. Therefore, it must be incorporated within an end-to-end marketing campaign. Equipped with a thorough understanding of your buyers, you should have enough knowledge of your prospects buying cycles to develop this end-to-end campaign.
The campaign must outline all the tactics to be leveraged by the organisation from top-of-funnel (TOFU) stages ( raising awareness and generating leads) to bottom-of-funnel (closing the sale). This understanding of your buyers' journey will inform how social media fits within your marketing plan. When social media is leveraged as part of a full fledged plan focused on business growth goals, you will have a better understanding of how it is contributing ROI and a far more focused execution.
3. The objectives for using social media
It is crucial to develop a clear purpose statement and a set of objectives for your social media activity. Then, go deeper and identify the objectives (in numbers and $) that you plan on achieving with social media. As with the above, set an objective for every social media channel you plan on using. It is only when you have these clear objectives for social media that you have benchmark to measure against.
4. Relevant, engaging content
Social media, in itself, will not deliver leads. Arbitrary updates on LinkedIn or Twitter and promotional updates probably result in negative ROI. For social media to deliver leads and sales, it must be supported with a sound content marketing strategy. This strategy cannot be based on what you or your business wants to communicate (common fail). It should be derived from your buyers needs for information. Listen to your buyers problems and needs to determine the topics that are most relevant to them.
Your social media content will then contain topics that are of interest to your buyers, and content pieces that will truly engage them, meaning you break through the noise made by all your competitors shouting about how great they are. Engaging content will progress your buyers to the next stage in their buying journey, present you as a trusted source, raise awareness of your brand and ultimately, deliver an ROI.
5. Constant measurement
Measure everything! Measurement should be compulsory in every business, for it is the only way you will be able to determine effectiveness or ROI from any marketing campaign.
There are several social media management platforms that come with analytics features, helping you see how successful you are in engaging with your buyers. These tools show you how many people have followed you, how many people re-tweeted your update, how many readers have commented on your blog and linked through to your website to name a few. Analytics can show you the real numbers of the leads generated, progressions made and sales closed as a result of social media. With analytics, you will see how social media delivers ROI for your business.
Ensuring you have goals and a strategy for achieving those goals, social media can be your business's main source of lead generation. Without this you can waste time and money. To learn how to better measure your marketing ROI, refer to our free eBook below: