Growing business is difficult and growing it intensively is even harder. Only one tenth of a percent of companies will ever reach $250 million in annual revenue - most businesses begin small and stay that way!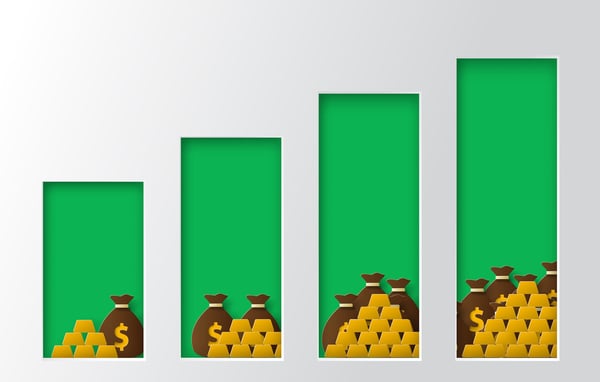 However, there are some firms that make it from small start-up to global player and there are a number of strategies that you can employ to grow your business. This blog examines four major business growth strategies identified by the Ansoff Product-Market Matrix and shows you how to develop marketing strategies that are aligned with achieving the business goals you want.
1. Market Penetration

This is the least risky of business growth strategies but also has the lowest opportunity for growth. This approach consists of selling to you existing customer base more of your current product(s). In order to achieve this you need to persuade the customer of the benefits of having more of your products or services or find alternate ways for your customers to use an existing product/service. For the B2B industry, upselling and cross selling is a huge area of focus.
The keys to success for this business growth strategy are relationship and database marketing.

The marketing for this involves using your already established contact with customers. In order to be effective at achieving upselling and cross selling there are two different areas you need to consider:
1. Relationship Marketing

If your existing customers aren't happy, they won't buy more from you. Marketing, along with other factors (product quality and customer service for example) has a key role to play in delighting your customers.
Each interaction matters, from a face to face meeting to an email to a response to a tweet. Successful businesses are taking advantage of marketing automation technologies to improve customer satisfaction. In order to create successful processes, you need to be able to create highly personalised communication, and highly useful content. For example, a software-as-a-service company may put an email ongoing campaign in place using blogs and videos, to help their customers use make the most out of their product.
2. Database Marketing

Having automation systems in place that allow you to create highly targeted lists from your database will help your upselling campaigns considerably. Businesses are able to change the content of their entire website to suit the person that is visiting. For example, if someone that is identified in your database as a customer of Product A, but not Product B, the content of the website can be structured to address this.

Market Development

The next business growth strategy is targeting new markets with an existing product. That means finding and selling into a totally new set of buyers who don't currently buy from you. As you already have the product, success is solely dependent on your marketing efforts. This approach offers the opportunity for great reward, but can be slightly more expensive than the 'Market Penetration' approach.
The keys to success for this business growth strategy are market research and awareness building.
1. Market Research

It is important to make sure your marketing team has researched and fully understands the buyer persona they are targeting. However, this doesn't have to cost thousands of dollars if you have the marketing analytics in place to guide you. Testing the success of your marketing messaging should be an ongoing process which guides your marketing activities. Here is what your research needs to focus on:
Identifying other markets that can make best use of your product/service
Identifying the specific buyer personas you are targeting within this new market (for example HR managers)
Finding out the biggest challenges these personas are experiencing in their workplace
Developing a marketing strategy around the challenges of your target buyer personas


2. Awareness Building

As you are entering an entirely new market, you need to be allocating significant budget to developing awareness. There are many options for doing this: online advertising, offline advertising, PR, SEO, social media, attending trade shows, sponsoring events, buying email lists... the list goes on. So, what is the best way to tackle this?
Different tactics work for different industries, but in B2B there is a clear winner for generating awareness and qualified leads. This blog would be way too long if I detailed this here, but we will be directly comparing these tactics in my blog next week.
To make sure you receive a copy of this, subscribe to our blog clicking here.
Who has done this?

CRM software service provider salesforce.com recently employed an in-depth B2B market development strategy. They created multiple buyer personas covering all company sizes and buyer stages, then targeted all of these with quality content in the form of ebooks, interviews, webinars, whitepapers and infographics. This strategy was a massive success employing the 90/10 rule of content, 90% about the customer 10% about the client, and salesforce.com experienced a 300% increase in traffic from social sites and met 70% of their annual newsletter sign-up target in the first month of the year.


3. Product Development

Product Development involves developing new products to sell to your existing customers. If you have been doing a good job at measuring the success of your marketing efforts, and have been communicating well with your existing customers about problems they are having in the workplace then you should have a pretty good idea of product opportunities. However, to really ace this approach this strategy should be proactive as opposed to reactive. Meaning you need a process that allocates sufficient resources to identify market changes and to build appropriate products that are ready to take the advantage of the opportunities as they occur.
The keys to success for this business growth strategy are database marketing and relationship marketing.

1. Database Marketing

With an existing database of customers at your disposal, and a pool of information about them - you will be able to craft a highly targeted and deeply personalised cross sell campaign.
The success of a 'cross sell campaign' is dependent on your ability to use what you know about your existing customers, and leverage the relationship you already have with them.
A good database and marketing automation system will make implementing this strategy easy.
2. Relationship Marketing

See 'Market Penetration' section above!
Who has done this?

An example of this is Phocas Software a business intelligence software company (and also a client of ours). They developed a new software offering which is tailored more specifically for the retail industry. Sales Managers were defined as their target persona for this market, which then informed and helped develop their marketing strategy, focusing on the sales managers biggest problem - not being able to identify sales opportunities due to lack of accessible business intelligence information.
Another example is Amazon.com who developed their own Amazon Web Services, offering an easy to use cloud-computing platform for which they charge a monthly subscription fee. Amazon is using an interesting technique of targeting existing B2C customers and trying to reach them in the B2B market as well.



4. Diversification

Whilst you are looking for new markets to sell to you may discover that your current product/service offering needs changing to suit the needs of your new target personas.
This is the most risky strategy as it involves taking on a new market and a new product simultaneously. In the Ansoff Product-Market Matrix, diversification stands apart from the other strategies. While the other three strategies involve using technical, financial and merchandising resources from your original product, diversification most often calls for new skills, techniques and facilities. This means budget will need to be allocated to various different areas of the business, of which developing a solid marketing strategy is absolutely vital.
The keys to success for this business growth strategy are market research and awareness building.

This strategy is the most risky of the four intensive business growth strategies (and for the marketing department). This involves entering a new market, similar to the 'Market Development' approach, as well as developing a new product, similar to the 'Product Development' approach.
This means budget needs to be allocated accordingly for this to be a success.
1. Market Research:

For going to market:

Identify other markets which best suit your product/service

Identify the specific buyer personas you are targeting within this new market (for example HR Managers)

Find out what these buyer personas biggest challenges are in their workplace

Develop a marketing strategy around the challenges of your target buyer personas

For product development:
Developing a proactive as opposed to reactive approach to product development involves utilising the information the marketing team gather from testing different messages and feedback.
2. Awareness Building

Once the personas, product and market have been clearly identified, an awareness building strategy needs to be built. Again, there are many options for doing this which will be detailed in our blog post next week. Subscribe to our blog clicking here.
Who has done this?

Dyson vacuum cleaners are well-made and long lasting but the longevity of their products means that existing customers don't often buy new ones. The answer to this for Dyson has been to take their knowledge and create innovative hand dryers, hair dryers and fans which use a process known as concentric diversification. These products reach markets and customers they haven't previously targeted but still harness all their previous experience and areas of expertise.
Hopefully we have shed some light on these four intensive growth business strategies and the marketing strategies they involve. If you would like to know if your current business strategies will yield you the results your aiming for, use our funnel calculator.