It's all about lead generation in the marketing and sales world. We have endlessly discussed how you can attract potential buyers, make them come to your website, increase your traffic and engage with them. We have spoken about the key element of inbound marketing: making the buyer come to you. But what do you do once you've captured the interest of an individual? Where do you go from here? Here are 5 lead conversion tactics that can strengthen and help your business.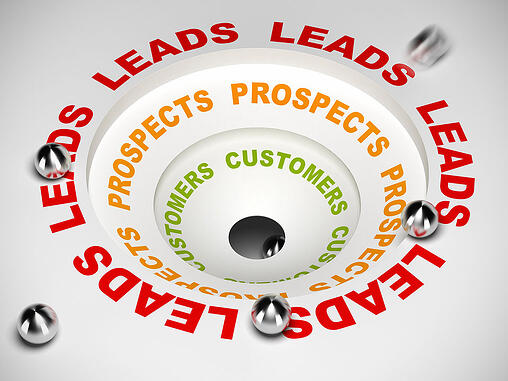 1. Defining your Buyer Persona
Let's take a step back, defining your buyer persona doesn't immediately affect your lead conversion at the end of the buyer's journey, but it is the first step you need to take in order to be able to convert leads into buyers down the line. In order to sell, you need to know whom you are selling to. There is no point in creating expensive marketing strategies and campaigns when you are unsure about your buyer. In order to create a successful b2b marketing strategy that will produce business growth, you need to sit down with your product, marketing and sales team and clearly define whom you are going to interest with your product and who is going to want to spend their money on it. Not every strategy works for every buyer, and not every product is fit for every business, so by defining who you're trying and are able to attract, you are giving your sales team the opportunity to divide up your leads into sales-ready customers, not-yet-sales-ready-customers, competitors, researchers and even students. Having your buyer personas locked down, will make it easier to convert and sell to once leads get to the bottom of the funnel.
2. Content, Content, Content
With content, it's all about quality not quantity. It's not enough to just generate endless content to populate your blog. To make content work for your business and drive potential buyers down the marketing funnel you have to ensure it's engaging, educational and sparks interest. You want your blog visitors to browse your content, realise it helps them on their buying journey, subscribe (and thus become leads) and come back to you as you offer them value through information they can't get elsewhere, this is where a visually pleasing CTA comes in. It is through your outstanding, high-quality content that you can get your leads to take the next step, become sales-ready and consider YOU as a solution to their problem.
3. Being Social
Be the life of the party! This point ties in directly with high-quality content creation. Be well rounded, available and transparent. Use your social platforms such as Twitter, LinkedIn, Facebook and Pinterest to keep the conversation going once you've stirred interest and converted potential costumers into leads. The key thing here is to keep the conversation going until your lead is sales-ready and can be converted. For some leads this might happen sooner than for others, so you need to ensure you nurture your leads through the sales funnel and give them exactly what they need. By having a vibrant and lively online presence which you use to engage with clients, potential clients, as well as doubters and the media you can really establish yourself and increase your social proof, which in return will make you more credible, elevate you from your competitors and let you close and convert quicker.
4. PPC Advertising
Pay Per Click advertising drives a large conversion rate, for obvious reasons. Pay Per Click ads on search engines are displayed through a keyword-bidding model, meaning you can set your ad to target consumers who are seeking a product just like yours. PPC advertising has one clear advantage to organic search, those who click on your ad do so deliberately as they are looking to solve their problem sooner rather than later, they are at a different stage of the decision making process than someone who is just browsing the web to gather information. Consumers you draw to your site through advertising are already at a point where they are ready to purchase, so they are easily converted. By making use of PPC advertising you can essentially jump various lead nurture stages and capitalise on sales-ready leads coming directly to you.
5. Testing, Tracking and Analyzing
As a marketer you want to be flexible in your approach. To achieve this, analysis of your campaign needs to be a top priority within your weekly tasks. Testing, such as A and B e-mail campaigns in which you can determine which subject line has a higher opening rate, tracking and analysing your customers behavior on your site are key. Google Analytics, for example, can be really helpful here. Never get too comfortable with your campaign, to be successful you should strive to adjust, improve and move forward. Never be afraid to try a few things before you get it right.
By adhering to these five points, you can really elevate your business above your competition. You can sell more, close faster, and generate more high-quality leads with a greater conversion rate.
To learn more about quality lead generation, download our free e-book.