We live in an era of outsourcing, where everything is up for grabs. If you're unable to do certain things yourself you can just outsource them to someone who can. From paying a company to create your daily-portioned and calorie-controlled meals to the care of your child. In today's world, where the buyer has more control over the buying process than ever, online, B2B marketing demands a certain skillset to increase lead generation and convert those leads into customers and promoters of your brand. This is where outsourcing your marketing could be the better option over trying to do it in-house. So what are the benefits of Marketing-as-a-Service?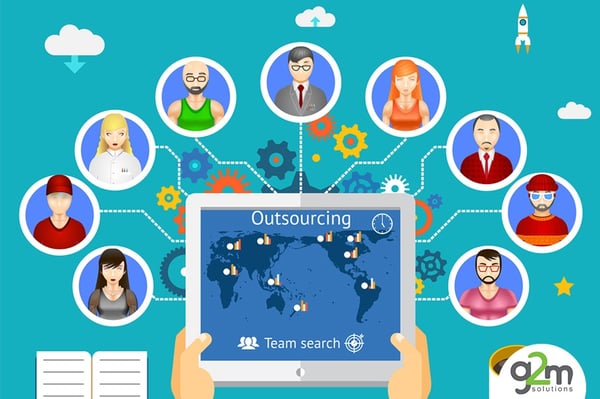 Immediate access to more skills
You could use an agency – straight away you have access to multiple people who collectively have more refined skills than what you could hire for in one person. Think about it, there are SEO, content writing skills, web and graphic design skills, social media marketing and more.
The best part is, this is what an agency does day-in day-out, they know best practices for every part of the process. They know how to strategise, execute a plan and then analyse it regularly to improve it. As soon as you engage them they will hit the ground running. That's not to say that an in-house marketing team can't do that either but depending on their skill base they could be slower off the mark than an agency.
Eliminate HR issues
With an in-house marketing team you need to be able to attract people with the rights skills and then retain them. When you engage with an agency none of those HR issues are an issue to you.
Scalability
Depending on your marketing needs, you may need a lot of assistance for a certain time during the year but you know that there will be a period where activity will be low. In this case you don't have to pay for a marketing team throughout the whole year, you can scale up or down the use of an agency as you need them.
Accountability on another party
An agency wants to win and keep you as a client, so they will do everything they can to ensure that they achieve your set KPIs or ROI goals.
Save money
By outsourcing your marketing to an agency you will reduce your operating costs, as you don't have to pay for the salary of a full-time marketing employee.
Extra insight into performance
A marketing agency will provide you regular progress reports, most likely on a monthly basis. These reports analyse the performance of the entire marketing strategy they're executing for you. Based on their collective expertise, the insight and recommendations they provide on the analytics will give you a clearer 'bigger picture' and allow you to make more informed, strategic business decisions.
Outsourcing your marketing can be a viable option but first things first, you need to decide whether your current marketing plan is working as well as you need it to. As mentioned previously, your buyers' behaviours are changing, this means sales and marketing teams have to work harder to win a deal. Our ebook 'A Business Leaders Guide To Highly Effective Revenue Generation' covers topics on measuring lead generation, the science of revenue generation and the rise of Inbound Marketing. It also provides six steps to scientific marketing, detailing how your sales and marketing plan should reflect the buyer-centric world in which we operate. Download a free copy by clicking on the button below.