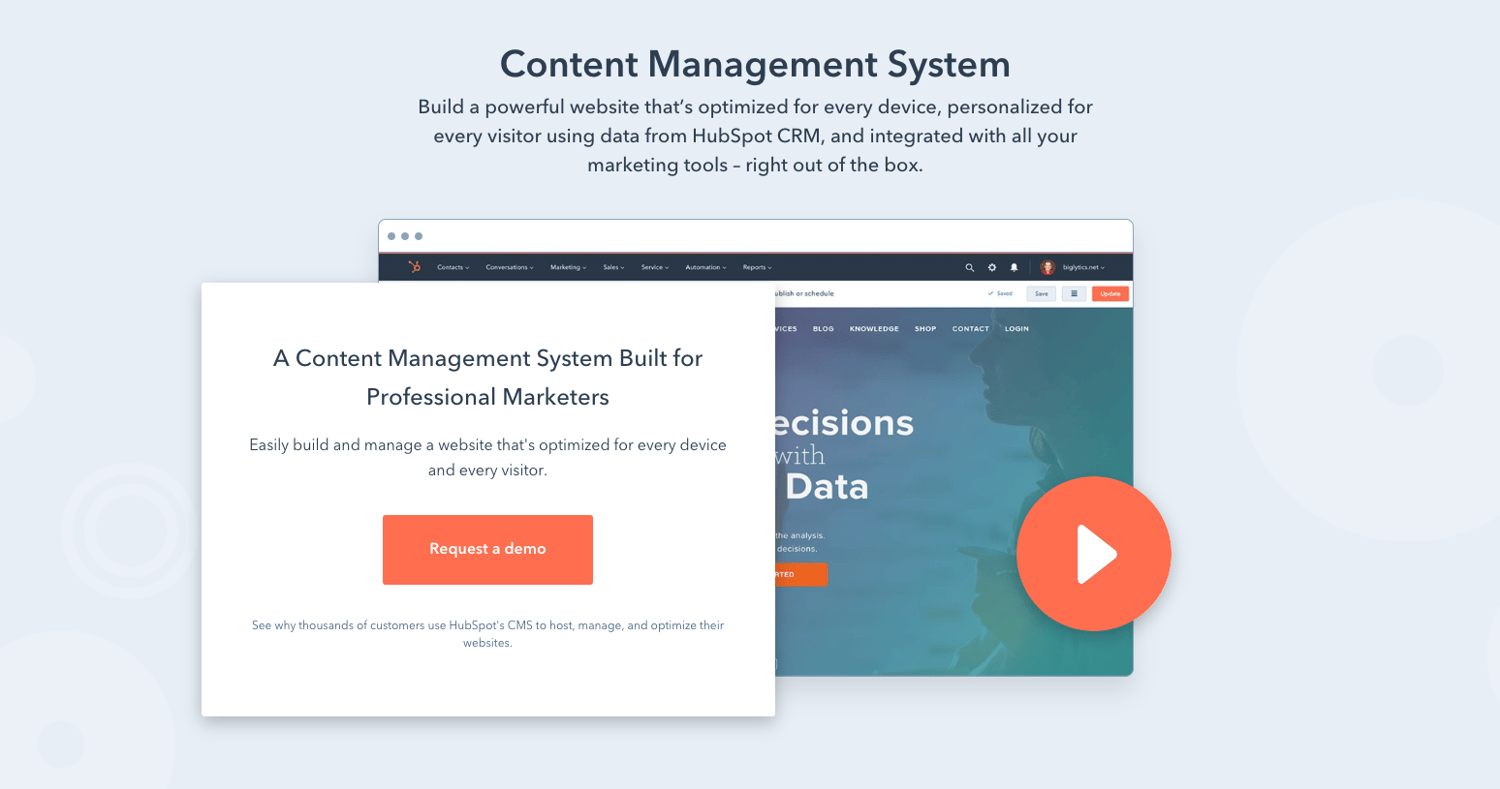 This post was originally published by The B2B Marketing Lab.
Previously, if you wanted to build your website using the HubSpot content management system (CMS), you had to purchase a HubSpot marketing licence (Basic, Professional or Enterprise) and install the CMS as an 'add-on'. The CMS 'add on' would give you access to the website management platform, allowing you to build your website and put it live.
However, since HubSpot's conception in 2006, there has been no way for businesses to have the HubSpot CMS as a standalone solution to host and manage their website.
So for many businesses looking to take advantage of HubSpot's sophisticated CMS, they had no choice but to grit their teeth, purchase a Basic, Professional or Enterprise licence and get on with it. Whereas others simply used something else!
That is, until now!
At this year's INBOUND conference, HubSpot announced that its CMS platform would be provided as a standalone product, meaning you can now use it without having to purchase a HubSpot marketing licence. So, if you want your website in HubSpot, you can have your website in HubSpot.
This is great news. If you are already using HubSpot and its CMS, you will no doubt understand the tremendous value the CMS provides from a marketing and sales perspective, particularly how it helps you to align your content strategy to the needs of your target audience.
The thing is, people today expect great experiences when they visit websites. They want tailored recommendations, personalised content and relevant ads. They want to have an experience – not just make another purchase.
However, for many B2B websites the user experience is impersonal, minimal, static. Often, these websites offer no real value to encourage the website visitor to engage further.
Most of this comes down to the fact that these websites are built using separate tools, tools which do not communicate or integrate with each other and so fail to provide the functionalities businesses need for effective personalisation and engagement.
HubSpot's CMS solves these issues by bringing all of the tools required for personalisation, engagement and – most importantly – lead generation, under one roof, making it incredibly easy for you to create a website that, well, works.
HubSpot's CMS has always been head-and-shoulders above the competition, so what does the standalone solution provide?


Content & conversation tools




Build website pages, blogs and landing pages
With the HubSpot standalone CMS, you can easily build your main organic traffic generators and lead convertors: website pages, blogs and landing pages.
Website pages built in HubSpot are responsive, meaning they are automatically optimised for all devices (desktop, mobile, tablet). In addition, the on-page editor features an SEO checklist to help you ensure your web page is optimised for search engines and website visitors. The same applies to your blogs and landing pages. If you want to alter your web pages in any way, that too can be done through the on-page editor, source code and the CSS template.
Create calls-to-action (CTAs) and forms
If you want to actually generate leads for your business, you need to engage with website visitors on a level that isn't just 'contact us'. Not everyone who visits your website will be ready to make a purchase, so including a variety of CTAs to attract and encourage website visitors to engage will help to improve lead generation. HubSpot's standalone CMS allows you to create fantastic CTAs and measure their performance to determine what actually works.
Stage your content in a replica production environment
Want to see what your content looks like before it goes live? No problem, HubSpot's content staging environment can do that for you. Most CMS platforms lack the ability to let you see what your web pages will look like before they go live, but HubSpot's content staging allows you to not only see those pages as they would be live, but also to edit live pages without unpublishing them. Any changes made to live pages will be applied once you finish and hit update, so you don't need to ever take any pages down!
The HubSpot Conversations includes all the tools you need to scale and streamline your communication with prospects. Conversations provides a single, unified inbox for all customer conversations across social media channels, allowing marketing, sales and customer service teams to view, manage and reply to all conversations with ease. Notes, emails, calls, follow-up tasks, support tickets and much more can be done from within the Conversations inbox. Using the tool, incoming emails can be filtered and routed to the correct teams for actioning, ensuring that no 'conversation' is missed!
The tool also includes live chat, allowing sales teams to follow up on customer enquiries in real time, and a chatbot builder you can use to create chatbots to answer simple questions, qualify leads and allow your website visitors and prospects to book meetings with your team. All of these features are tied into your HubSpot CRM, giving you the context of every interaction, allowing any member of your team to confidently engage with prospects!
Design and management tools



All of your files in one place

Everything you build in the CMS is stored in a single, central location – meaning you'll never lose your web pages, landing pages, thank you pages or blogs.
Design your website with ease
HubSpot's design manager combines all the tools you need to build a lead-generating website while still giving you a simple and easy-to-use interface. You can quickly drag and drop modules, edit all of the frontend code, organise your files, templates, modules and folders and much, much more. It has everything you need!
As mentioned previously, using HubSpot's CMS you can drag and drop the modules you need, allowing you to set up advanced functionality on your website with ease – even the non-technical users can do it!
Fully customisable themes
HubSpot comes with several default theme options. A theme is, according to HubSpot, a group of assets used in conjunction with one another to create the look, feel and functionality of your website. Themes include base templates, custom templates, global groups, custom modules, stylesheets and JavaScript files.
HubSpot comes with several default theme options that you can use for your website – and all of these templates can be customised at template level or via the flexible column sections in the page, allowing you to create a website that's truly yours. You can modify these themes however you like – global modules, custom modules, CSS and JavaScript: everything can be modified to meet your needs.
Use graphs and tables on your website with HubDB
What if you want to insert a graph or table into your web pages? For most content management systems, this can be excessively – even needlessly – technical. However, with HubDB, the implementation of tables and graphs can be done a lot easier and once it has been set up, you can easily add, edit or remove data from the table as needed. To build HubDB tables, HubSpot strongly recommends that you start with the designer's documentation on HubDB.
Marketplace
Thousands of responsive website templates
The HubSpot template marketplace gives you access to thousands of free to use templates for emails, web pages, landing pages, thank you pages and much more. All of these templates are responsive and will work on any device. If you want to edit them in any way, you can easily do so. Put the phone down – no need to call your website developer and graphic designer!
Reporting

Web and content analytics
What's working? What isn't working? Without web and content analytics to assess the performance of your pages and your website content, you will not be able to improve that content and start creating more of what your website visitors are actually interested in. HubSpot's CMS includes sophisticated web and content analytics, evaluating everything from clicks and conversions through to time on page,
Contacts and personalisation

The HubSpot CMS can be integrated with Salesforce, HubSpot's free CRM, or other CRM platforms, allowing you to have a complete record of every website visitor/contact interaction with your website or marketing activity. Email opens, CTA clicks, form submissions, visits, pages viewed – all of this data is stored in HubSpot. Using this data you can then score your leads depending on how they have engaged and then create segmented lists to tailor your content and marketing to certain prospects.
Smart content (content only, not forms and CTAs)
Personalised content means a better user experience – and a better user experience means improved lead generation. Using HubSpot's CMS, you can tailor your content to specific contacts based on location, source, device, language or by any other detail stored in your contacts database.
But what's missing?
HubSpot's standalone CMS is no doubt powerful but there are certain functionalities missing that you can only get by acquiring the marketing professional or enterprise package, such as:
Email marketing
Email marketing, for example, is part of the HubSpot Marketing product. You could use the HubSpot Marketing Free package to gain access to the email marketing feature, but it's limited in that you can only follow up on form submissions with a quick email. Marketing Starter is an option you may want to consider if email is important to you. You can get going for a lot less than A$100 per month. With the full Marketing product, you can create email templates, customise your emails, run A/B tests and much, much more.
Workflows
Another feature missing is Workflows. Workflows allow you to effectively scale your marketing activities and automate processes based on certain criteria being met. With workflows, you can deliver relevant, timely interactions based on a website visitor's interactions with your website. You can also use the data you have on your contacts to create more personalised workflows.
Social media
The HubSpot CMS doesn't include HubSpot's social media management and monitoring tools. These tools help you to publish updates, monitor mentions and follower activity, analyse performance across Facebook, LinkedIn, Twitter and much more.
Analytics dashboards and attribution reporting
You'll be able to analyse content performance using the HubSpot CMS – but you won't have access to source or attribution reporting to help you understand where your visitors are coming from and which channels generate the most leads for your business, or analytics dashboards to get a holistic, end-to-end view of marketing performance.
Lead flows
Lead flows allow you to create customisable pop-up forms that display based on website visitors meeting certain criteria. For example, if a website visitor stays on a page for more than five seconds, a pop-up form related to the content on the page will appear. Lead flows are a great way of engaging with more 'passive' leads on your website and can be used to display key pieces of content to prospects. However, this functionality is not available with just the HubSpot CMS – and requires the HubSpot Marketing Free package.
HubSpot's decision to make the CMS a standalone product is great for businesses looking to build their website – or websites – using a sophisticated content management system designed to integrate both marketing and sales activity. Of course, to truly benefit from HubSpot's tools and further increase the potency of your website, we would suggest acquiring the Professional or Enterprise HubSpot package depending on your business' needs. Both packages extend the capability of your website and give you the tools you need to succeed.
If you're looking for a proven approach to website design that drives lead generation without burning through your financial resources, download our eBook on Growth Driven Design.