Inbound marketers agree:
content is key to marketing
success. Not only is content a valuable component of inbound marketing, but it's also an effective tool throughout the entire sales process, from generating initial interest in a business to converting visitors into leads and all the way through the lead nurturing process to converting leads into customers.
So what kinds of content are marketers using to power their activities throughout the marketing and sales process? According to a study from Focus Research, marketers are leveraging a number of content types, and while the value of different content types varies between B2B and B2C companies, it seems both B2Bs and B2Cs agree that blog posts are on top.
MarketingSherpa recently posted some cool stats on effective social media for digital marketing which sheds some light on the effectiveness of channels in content distribution: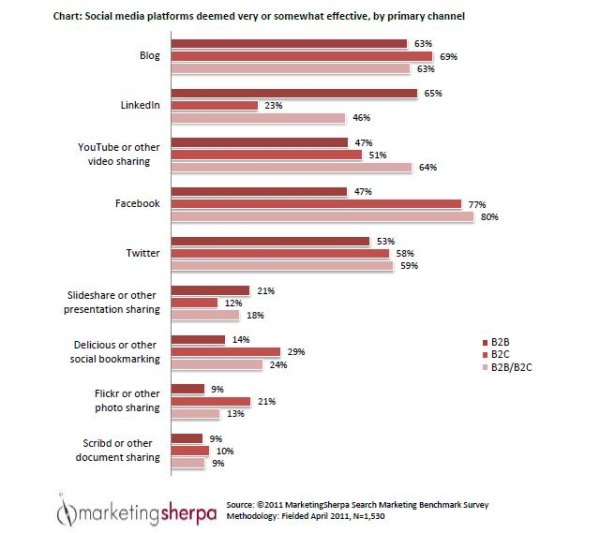 Interestingly enough, less than 50% of B2B marketers found Facebook efforts effective. Blogging wins the number one spot, while LinkedIn and YouTube video places second and third.
The Ultimate Power of Content
It's hard to disagree: content is the best fuel for a successful overall marketing strategy from beginning to end. Whether you use it to attract prospects to your business initially, convert visitors into leads, or nurture those leads into qualified customers, there's no denying the versatility of using content to achieve various business goals.
How are your content creation efforts faring? Are you effectively using content throughout your entire sales cycle? Are you missing out on opportunities to leverage various types of content to achieve different goals?
Why don't you download this free eBook on the content marketing revolution and how to create a content map that helps you nurture your prospects down the go to market funnel.