There is an abundance of tools online that a B2B marketer can sink their teeth into (and if your not careful quite often get carried away with!) when it comes to online marketing measurement. It's easy to miss the point of what you are actually trying to ACHIEVE with these tools.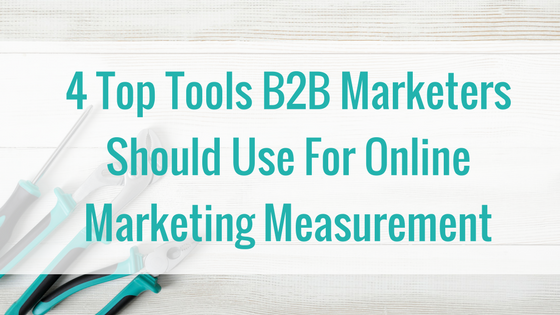 Before using any tool it is essential to know WHAT marketing activity you plan to measure, for example website visitors, Landing page form submissions, email Click Through Rates and so on.
What you chose to measure, should clearly tie back to your businesses objectives - typically your marketing and sales funnel, and ultimately revenue growth. What is being measured is decided by the CMO as they will be presenting the data produced by the tools back to the Board.
Here at g2m we have chosen our favourite 4 tools we use for our clients and ourselves, which provide insight into our campaigns and even better, give us a clear indication of what needs to improve.
The four tools are:
If you are not using it already, then do so. Google Analytics (GA) can be customised to suit your exact needs for marketing measurement & reporting. Develop conversion goals within GA to support your marketing measurement. Find out how you can create, edit and share goals in Google Analytics.
Cost to you: $0
User Difficulty: 7/10 (Pro Tip: Use the Google Analytics Help articles, they offer step by step solutions)
HubSpot marketing analytics provides extremely powerful metrics (as well as being a very strong contender for your all-in-one marketing tool) with the ability to measure your entire marketing funnel, with reports, dashboards and many other tools to support the reporting of your B2B marketing campaigns. Try their free website report as a taster.
Cost to you: Starts at $270 per/month (This includes a lot more than just reporting see more)
User Difficulty: 4/10 (Extremely user friendly and a great support network)
A very important metric in regards to marketing measurements both online and offline, is the Cost Per Acquisition (CPA) or Customer Acquisition Cost (CAC). Knowing this metric will answer the ongoing question of "How much do I have to spend to get a sale?" The ClickZ CPA calculator is a really easy and quick tool you can use, there are instructions if you need them, just enter your numbers and it magically calculates your CPA.
Cost to you: $0
User Difficulty: 3/10 (Pro Tip: You will need to know your CPC (Cost Per Impression or Cost Per Click) and Click Through Rate (CTR) to best utilise this tool)
This is not so much a tracking tool but more a planning tool to set your B2B marketing and sales plan. Its simple-to-follow nine steps produces a tremendously powerful aligned sales and marketing plan, complete with your strategy, your funnel metrics and a set of tactics to reach your firms growth objectives. This tool is perfect for aligning your sales and marketing team and getting your boss on board.
Cost to you: Free version is available; Paid version is $29 per month.
User Difficulty: 7/10 (You will need an idea of your current funnel - use GA to get some numbers for this)
So there you have it, 4 tools CMOs could use to support their marketing measurement and reporting to the senior executive team.
Why Measure Marketing ROI
Learn more about how to measure marketing ROI and why with our 10 minute, easy to read eBook Measure your Marketing ROI – The Keys to the Boardroom