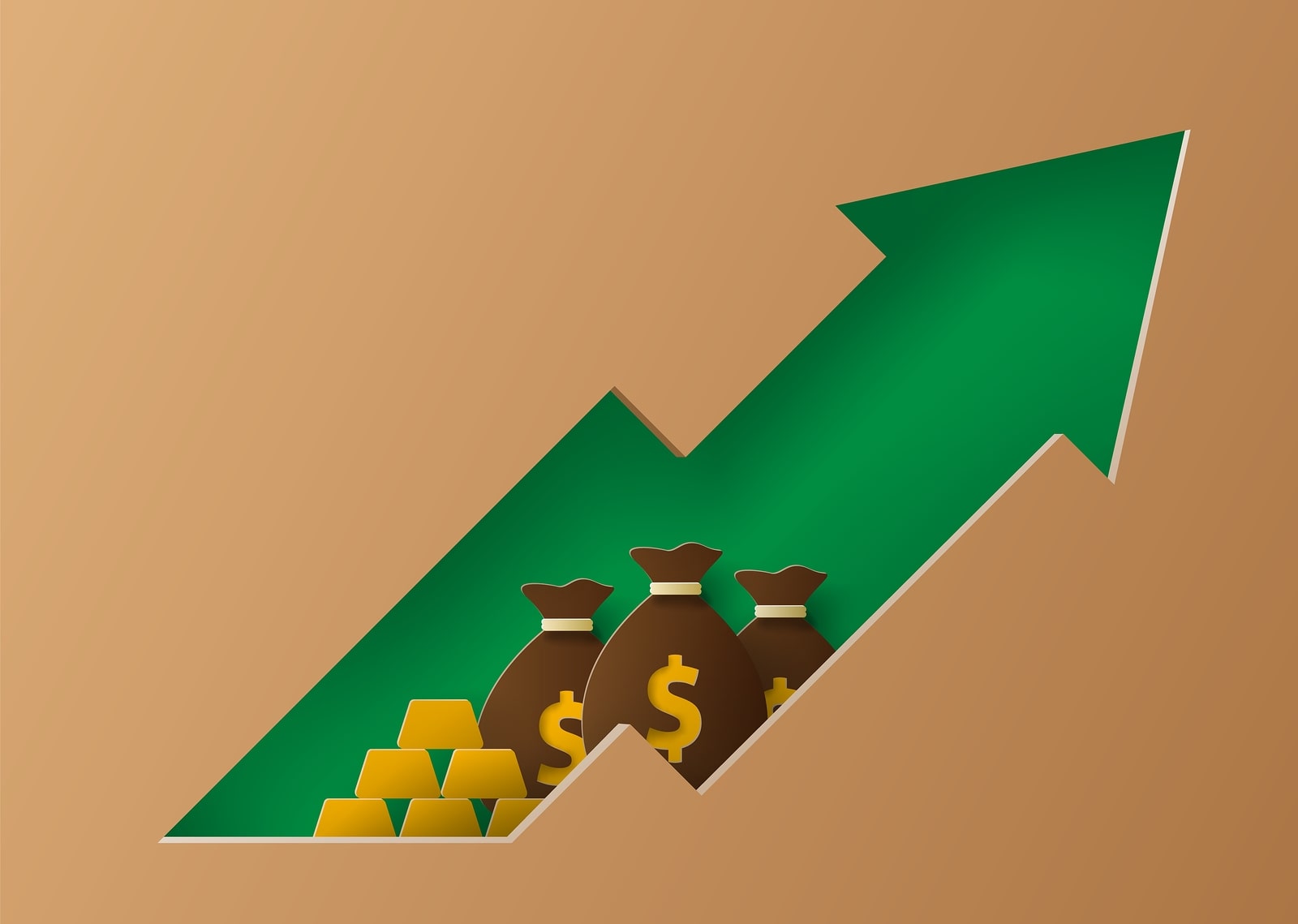 If your boss is anything like - well, every boss I have ever had - the annual planning cycle is a long, drawn out negotiation process over what is an achievable growth target. It's a tough process because the key players, the boss, marketing and sales are seldom aligned.
And that's the problem this blog aims to overcome, armed with this free Funnel Velocity Calculator tool.
Aligning the growth team around a common goal


The goal for the boss is to agree a stretch target with the go-to market team, (sales and marketing,) but not so much of a stretch that the team give up before they have even started.
The challenge for the marketing and sales managers is how to translate that strategic growth goal into daily action, in the trenches. To know how much activity is required to generate the required number of deals. In other words, to work out the firms required Funnel Velocity; the speed with which to run their business.
The Funnel Velocity Calculator tool, allows the boss to drive alignment across marketing and sales teams by asking the team leads to generate 5 key data points, using historical data as a reference point wherever possible, to work out the following:
The Head Of Sales needs to work out:
What is the split between revenue from existing and brand new customers


Using an average sales value, work out the total number of deals will they need to sign with existing and separately, with brand new customers


How many proposals will they need to submit to win those deals


How many sales qualified leads (SQLs) will they need from marketing


And how many SQLs will come from their own lead generation efforts (cold calling etc)
And The Head Of Marketing needs to work out:
How many contacts do they need to convert into proper leads that are qualified to pass to sales (MQLs)


The split of MQLs coming from digital vs analogue marketing channels


The conversion rate of site visitors to contacts


The split between inbound (organic) and outbound (paid) channels


The number of SQLs coming from events
The resulting output of these decisions is an overall view of your Funnel Velocity to support your revenue goals. It'll look something like this.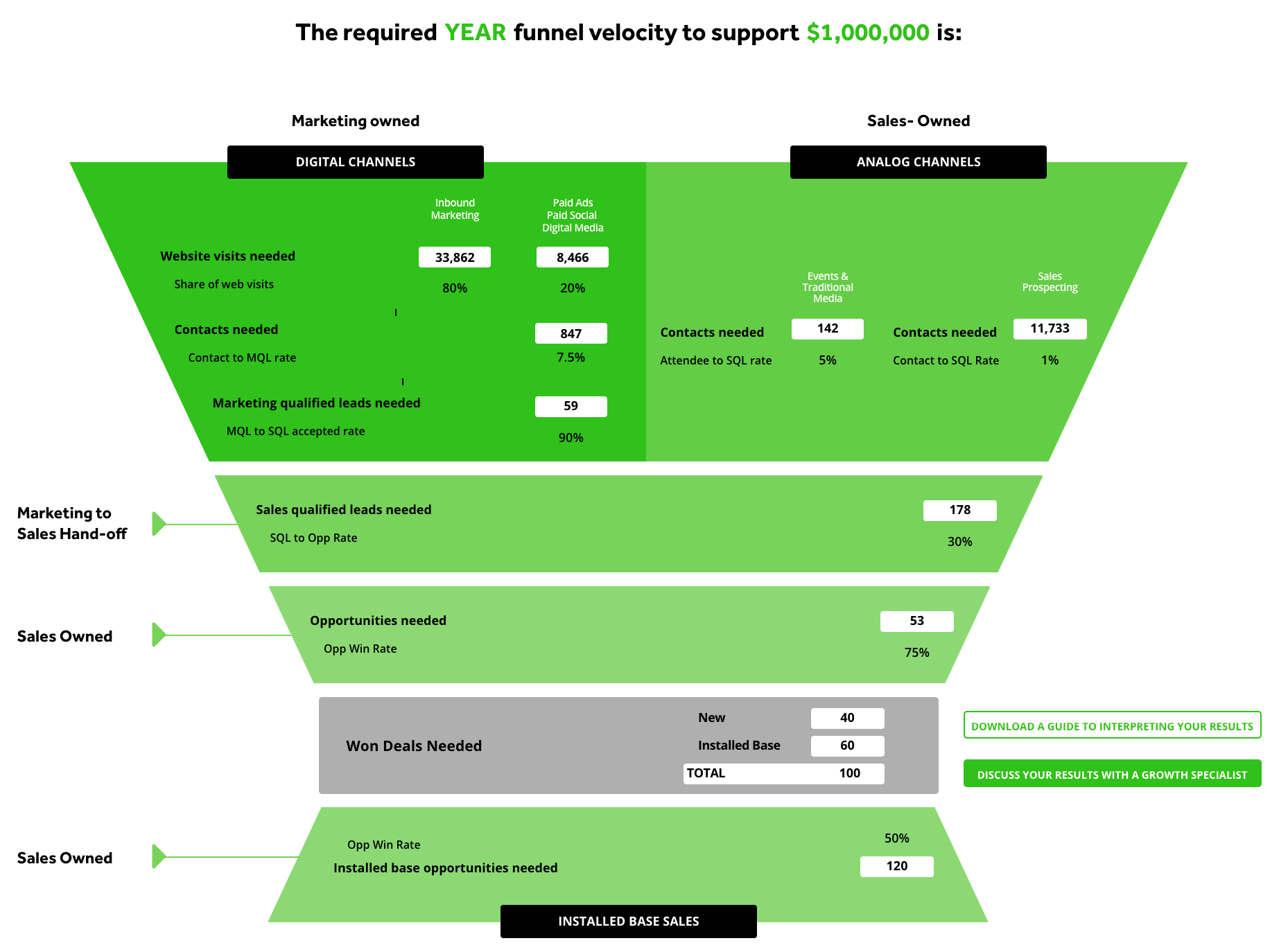 Going from strategy to daily action
With these questions answered, it's more straightforward for the heads of sales and marketing to convert the overall strategy and revenue goal they have been given into daily activity:


Negotiate with the boss for the resources you require to hit the plan backed up by data from the Funnel Velocity Calculator.


Set clear activity-based KPIs for the sales and marketing teams. Without this clarity, there is a simply a lot of guesswork and "random acts of marketing" going on.


It allows both sales and marketing heads to work out what resources, both financial and head count wise, they will need to support the revenue growth target.


You can run different scenarios for combinations of resources.



Is it better to employ another cold calling sales person or invest in 3 new conferences for generating new Sales Qualified Leads?


If we were able to increase our SQL to proposal ratio by just 10% what effect would that have on revenue?


Are we better off upping our spend in digital lead generation channels, or sticking to analogue?


If we double our spend on paid search how many new marketing qualified leads are we going to generate?


And so on...
If you would like to model your own Funnel Velocity we encourage you to use this free calculator. There are a number of supporting resources for you to access. Use this article and glossary of terms to help you complete the calculator. Once you have completed the calculator you can download a guide to interpreting your results and if you wish you can speak with one of our growth advisors.