Email is the old war horse of lead generation marketing. Yet it remains a powerful communication medium and when used properly can boost your inbound marketing presence and in particular your social media reach.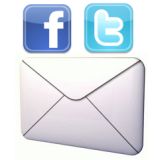 Email subscribers can be ambassadors for your brand, helping you gain new social media followers and fans and can spread your content far beyond your existing audience. Thanks to simple widgets provided by your email service provider or the social networks themselves, it's easy to connect people directly from your email messages to your social networks.
Here are four ways to use email to increase your social media followers and expand your reach.
1. Include 'Follow Us' Buttons
Add 'Follow Us' buttons or links for each of your social networking accounts (e.g. Facebook, Twitter, LinkedIn) in the sidebar, header, or footer of your email templates.
2. Add Social Sharing Buttons
Add social sharing buttons to each article or link in your email messages that allow subscribers to share that content (e.g. the "Tweet This" button, Facebook's "Like" button, LinkedIn's "Share This" button, and now Google's +1 button).
Using social sharing buttons in email messages results in a 30% higher click-through rate (CTR) on average, according to a study by GetResponse. The study also found that the more sharing options you provide, the more activity you'll generate. Messages with three or more social sharing icons generated a 28% higher CTR than messages with one icon and a 55% higher CTR than messages with no social sharing icons.
3. Include Content From Your Social Media Presence
Include content from your social networks in your email messages to entice email subscribers to become social media fans and followers, too. Look for any opportunity to show email subscribers the value of connecting with your brand through multiple channels. For example:
Highlight an individual as "fan or follower of the month"

Feature the best discussions or comments from LinkedIn or your blog in your email newsletter.
4. Add Links to Social Accounts in Email Signatures
Include links to your all your social network accounts in your email signatures. That way, even your employees' personal email communications can help grow your social media audience.
By making it as easy as possible for subscribers to share your email content, you can reach new prospects by tapping into the massive reach of users' personal networks. According to a case study from email service provider StrongMail, the online personal finance site Mint.com used social media-enabled email messages to ask existing customers to refer the service to their friends on various social networks. More than 10% of the recipients of the message shared that offer with an average of five friends each, and those invitations generated a 61% click-through rate. In the end, the site signed up one new user for every 2.6 clicks.
Blending well understood mature tactics such as email marketing with newer tactics such as social media, can provide a powerful boost to your usual ability to reach your target audiences. Additionally you can spread your influence way beyond your current contact list and drive new traffic to your site.
Are you using email marketing tactics to complement your social media marketing efforts? In what other ways can you use email to expand your reach? Do you have a clear go to market plan that gets you found online and then converts visitors to genuine leads for sales?
Find out more about ways to convert your website into an effective lead generation engine. Download a free copy of our whitepaper The inbound Marketing Revolution.