Here is some great data from Marketing Sherpa, showing results from a survey of 1,100 marketers. They rank how effective various tactics are for driving traffic to their site and converting them to real leads. Top of the list is implementing unique, campaign specific landing pages and second is optimising the design and content for conversion.
Since an organization's website is the hub for all of their marketing activities and commonly the key point of conversion, it is imperative that they make the most out of the inbound traffic they receive. So the results are very logical.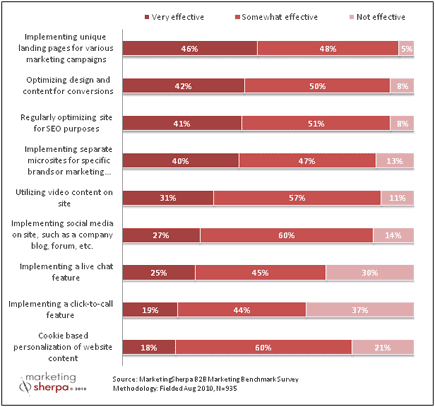 As Marketing Sherpa points out, "Implementing unique landing pages for various marketing campaigns increases the relevancy of that page, which leads to an improved conversion rate. Of course, optimizing design and content for conversions is also intended to increase conversion rates."
Working with an inbound marketing package that allows for this dynamic and flexible approach is very important and too many times firms are caught up in long and painful interactions with IT, making it just "too hard."
The price of this inflexibility is simple...lost leads. Can you really afford that?
If you are worried about losing leads, check out our inbound marketing solutions, or give us call for a chat.